Berthoud Wines are produced and estate bottled in the barn depicted on the label from the vines that are meticulously managed to yield less than two tons of small, concentrated grapes per acre. Grapes are punched down by hand several times each day in traditional open-tops redwood vats during fermentation to maximize color and flavor extraction in the gentlest manner possible. A 19th-century one-ton basket press delivers only the highest quality wine directly to a combination of premier French oak barrels. After approximately 22 months of aging, the wine is bottled without any fining or filtration. The result is handcrafted wine that exudes the personality of the Berthoud Family, their property, and the artisanal style in which it was made.
Please contact us to place your order.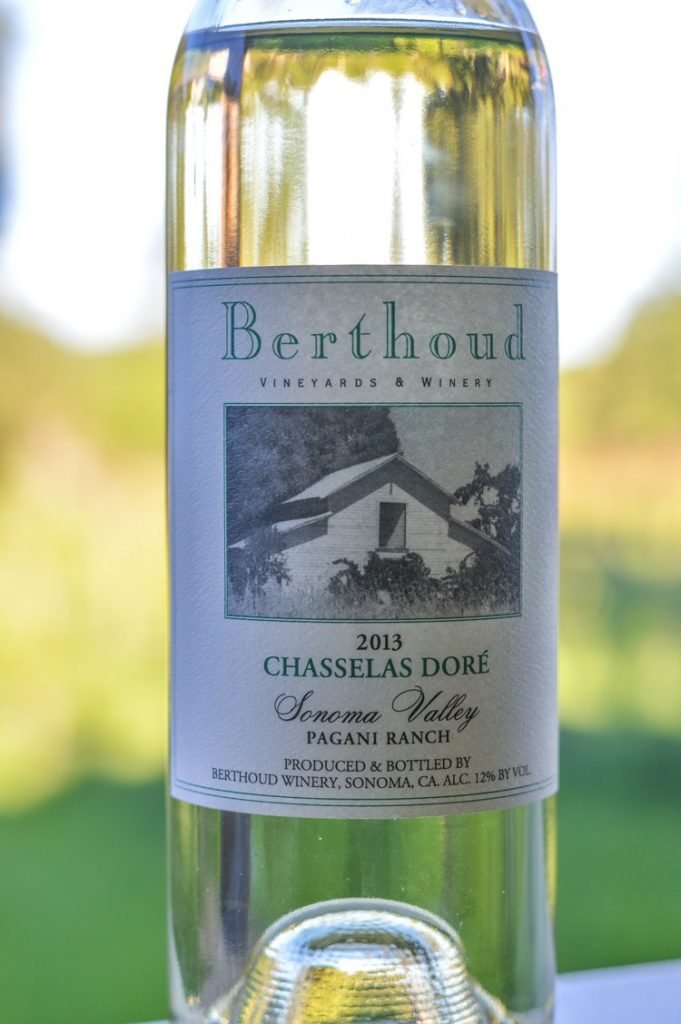 2018 Chasselas Doré
$30 per bottle
Chasselas Doré is the most common grape grown in Switzerland but is virtually unknown in the United States. We are one of the only producers of this pure varietal in the United States!

The Berthoud Chasselas Doré is made to emulate the best of Switzerland- clean, crisp, low in alcohol (only 12%), and just an ever-so-slight hint of effervescence. It has a completely unique flavor that must be experienced to appreciate. A natural complement to fondue, shellfish, and virtually any cheese.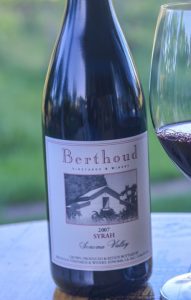 2008 Syrah
$45 per bottle
This limited production Syrah is filled with deep, dark berry flavors and hints of cured meat.

Producing 74 cases annually, the scant 300 vines were originally planted by Claude Berthoud for family consumption. Our Syrah is truly an artisanal wine with red and dark berry flavors but is not over-extracted. With a balanced structure and well-integrated oak, this wine begs for food and is a real pleasure to drink.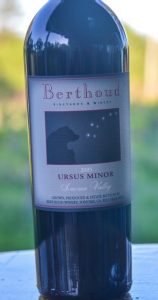 2009 Ursus Minor
$40 per bottle
This old-world style Bordeaux blend is our staple for a delicious meal.
Much like its muscular counterpart, Ursus Minor is a blend consisting of Cabernet Sauvignon, Merlot, Cabernet Franc, Malbec, and Petite Verdot from grapes grown on the Berthoud Estate. While in a different combination than the Ursus, these grapes maintain the structure and balance of this bold wine.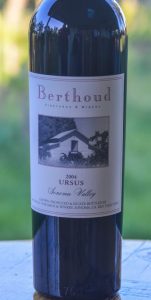 2008 Ursus
$60 per bottle
Our original and most elegant Bordeaux blend is perfectly paired with a French-style meal.

Ursus is the name of our proprietary blend consisting of Cabernet Sauvignon, Merlot, Cabernet Fran, and Petite Verdot. All of the grapes used to produce this blend are grown on the Berthoud Estate. Ursus is the Latin word for Bear, while Berthoud is pronounced: Bear-Too. Just like the bear, Ursus is a muscular wine while maintaining an elegant balance. Made in an old-world style, this wine is best enjoyed with a meal.